The JMG & SMOJOS teams
Juli Metzger
// Principal
Over the past 25 years, Juli Metzger has been a journalist, publisher, CEO, coach, trainer and teacher. She's been a consultant to numerous companies looking for a deep dive into their portfolios and business strategies. She's a motivational leader who knows how to leverage multimedia communications. A former Editor-of-the-Year for the Gannett Company, she has led nationally recognized newsrooms and launched custom publications such as magazines, newspapers and specialty websites.

Juli has a unique blend of specialties and expertise. She started her career as a news reporter then went on to lead news operations including small- and mid-sized dailies and was Executive Editor for Digital at The Indianapolis Star. She's also seen the business side of the media business as president and publisher of three different newspapers and understands the balance of editorial independence and ROI.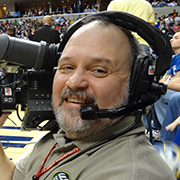 Tim Underhill
// Videographer
Tim Underhill has worked for network television affiliates in Rockford, Illinois; Grand Rapids, Michigan; and Indianapolis, Indiana. He continues to keep up to date by freelancing for various networks. Tim's work has appeared several national and regional networks including, ABC, NBC, CBS, CNN, ESPN, The Big Ten Network and FOX. He has covered the Indianapolis 500, Brickyard 400, NBA playoffs, Pan Am Games, NCAA championships, the World Basketball Championships, NFL Monday Night Football plus other college and professional sporting events. Tim's work has earned awards from many of those same organizations including NPPA, AP, and the Emmy Awards.
John Strauss
// Writer
Host of Indiana Public Radio's Indiana Weekend, John Strauss is a college journalism instructor and longtime Indiana reporter who likes finding stories off the beaten path. He's a former AP correspondent in Indiana, Tennessee, Kentucky and New York, whose last professional assignment was with The Indianapolis Star as a digital-news and weekend city editor. John now teaches journalism at Ball State University and serves as adviser to the student-run Daily News.
John Metzger
// Principal
John Metzger is a problem-solver, whether it's in his woodshop building furniture using re-purposed material, designing a uniquely targeted ad, or trouble-shooting pre-press production issues. An expert in Adobe InDesign, Illustrator and Photoshop, he's a builder and an artist first and foremost. John has worked in media across three states in capacities including editorial, sales, marketing and production. He understands the processes from concept to distribution.
Maria Strauss
// Photographer
Maria Strauss is a photojournalist with experience in photo, video, print journalism and television production. She's worked at two newspapers and loves fashion photography. Maria begins graduate studies in the fall.
Adam Sturm
// Photo & Video
Designer by day, husband by night, Adam Sturm is the founder of Seegull Media, a full-service media and graphics company with focus on design, photography and video product services. After getting his Bachelor's of Arts in Telecommunications at Ball State University, Adam moved to New York City where he honed his talents as a photographer and videographer. He moved to Indiana when he met his wife, Jennifer, and is based out of Indianapolis.
Chris Bergin
// Photographer
Chris Bergin, an award-winning editorial and corporate photographer based in Indianapolis, has a degree in photojournalism from Ball State University in Muncie. His work has been published in Sports Illustrated, People Magazine, MSNBC.com, USA Today, New York Times, Washington Post and Indianapolis Star.
Some of our Clients who love being with us!
Testimonials
Hank Milius, President and CEO, Meridian Health Services
Meridian Health Services has a limited marketing budget so we're always looking to leverage our existing signature events. We need to educate as many people as possible of our mission and programs. SMOJOS helped us take an existing event and showcase it in a whole new way to largely new audiences via social media.The content was crisp, clean and professional, but most importantly, it was immediate and relevant. Not only did the content work in the short term but we own it and are able to re-purpose it for use on our website and other platforms.
Ricci Atchison, PR/Marketing Director, Henry County Hospital, New Castle, IN
What a great asset. The New Castle-Henry County Chamber Magazine highlights so many great things we have going on and does it beautifully in both style and prose. I can't wait to see the next issue.
Beth Clark, Director of Marketing, Meridian Health Services
The JMetzger Group understands the media landscape and has been able to create content that our audiences enjoy. By choosing to be in JMG's publications, we not only know we'll be seen, we know we're in good company, too. And, consequently, Meridian gets great exposure to the right people.
Jay Julian, President and CEO, Muncie-Delaware County Chamber of Commerce
We wanted to increase our presence in the social media space but were uncertain on how to best get there. smojos showed us a way to better utilize Twitter and Facebook. Our followers and "likes" increased immediately. We have the content, including stories, photos and videos that we can reuse throughout the year. One of the best features of the smojos work was that the content was provided within hours of the event and they updated Facebook and posted to Twitter throughout the evening. They provided a great solution to us.
Greg Zirkle, Marketing Director, Citizens State Bank, New Castle, IN
We have been extremely satisfied working with The JMetzger Group over the past several months. They approached us with an excellent vision for the new chamber magazine in our Henry County market, and we gladly took a leadership position in the publication. John provided customer service personally and delivered on every promise. The graphic quality, writing quality, and production quality of the publication were all exemplary. We will definitely continue our relationship with The JMetzger Group!